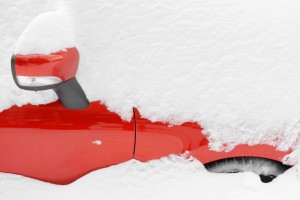 So. It's February. How are those resolutions going?
I know, right? It seemed so easy at first, so possible. You read a blog post about breaking bad habits, you identified your triggers and payoffs, you set your goals and set out optimistically on the road to change.
Only to find that this particular road is not so easy to traverse. Lots of curves, bumps and pits. And now you find yourself in breakdown mode, stranded and lonely and thinking perhaps you'll just go back home, give up on this trip for now.
If you're feeling stuck like this, take heart.
We all feel stuck at times. Really. All of us. And the experts tell us that being stuck is a normal and expected stage of the change process. So you're not actually as alone as you feel. And there is hope.
Because being stuck doesn't have to be a final destination. More like a layover or a rest stop, a place to pause until you're ready for the next leg of the journey.
And you will be ready for that next leg soon.
Because even when you're in a stuck place, even when it seems like from the outside that nothing is going on, things are happening inside you that are moving you closer to that next good thing.
But what to do in the meantime?
First, what NOT to do:
Don't deny your stuckness, hoping if you ignore it long enough it will just go away.
Don't spend a lot of time "shoulding" yourself into the next stage. We all know where that kind of thinking takes us.
And, for heaven's sake, don't give up. As the experts note, you're closer to your goal than you think you are.
But you don't have to just sit there either, waiting patiently, or probably impatiently, for the tow truck to come. There are a few things you can do to make your stuck time both more productive and more tolerable.
Five things, in fact:
1. Accept where you are right now. Radical acceptance is what we're looking for here. Repeat after me: "It is what it is, it's not my fault, and it will get better." Your stuck self will need some convincing about this, so be ready to say this mantra several times a day, and with gusto, like an annoyingly positive cheerleader.
2. Be the best you can be in this stuck place. Don't use being stuck in one area as an excuse to make bad decisions in multiple areas of your life. Don't throw out the baby with the bath water. Be the best and healthiest person you can be while you're waiting for the next stage.
3. Take some small, new, positive action every day. Drive a different route home from work, try a new food, call a friend or family member you haven't spoken to in a while, experience a book or movie you'd normally avoid as "not really your thing." In short, do something to break your normal pattern and surprise your brain. Keep things energized, keep newness and change in your life.
4. Take care of yourself. This is a hard one, I know, but it's really important. Like I said, it's not your fault you're in this tension (It's NORMAL, remember?), so don't punish yourself for being there. Continue to make good decisions about your health and wellbeing; nurture yourself during this difficult time. And reach out to a friend or counseling professional if you need a boost.
5. Assume a posture of expectation. Expect that change will happen and be ready to go with it when it comes. Because it will, in fact, come. Help will arrive, you'll repair your engine, and you'll be on your way again.
So take heart.
The next good thing, the next stage of change, will come sooner than you think. And if you follow the steps above, you'll be in great shape to meet it when it does. And then you'll be back on your journey.
—————————–
What about you? Have you ever been stuck? How did you handle it? Tell us about your experience below; we can all use a little roadside assistance from someone who's been there.
If this post spoke got you thinking, you might also like Embracing Emptiness, Things Get Worse Before They Get Better, and Conquering Our Inner Toddle – Letting Others Help.