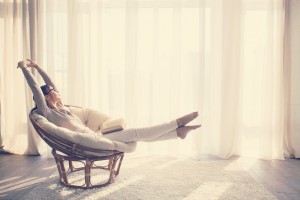 Living Alone
I have been alone a lot lately . . . And I kind of like it.
I like having the television and the remote all to myself. I like the kind of rockin' good night's sleep you get when you're the only one in the bed. And I like the experience of getting dressed in the morning without bumping into someone when I reach for the toothpaste or head to the shower.
Basically, I like that I can do what I want, the way I want, and when I want to do it, without the need to consider someone else's preferences. I am a rock. I am an island.
Okay, so I'm also a four-year-old. But it's true, right? We all get annoyed by the multitude of accommodations demanded of us when we're living in close proximity to others.
You know what I mean. With our partners, it's their tendency to take over more than their share of the closet or forget to spray down the bathroom after a particularly long sit. With our children, it's the socks on the floor, the lights left on in every room, and the relentlessness of their laundry needs. Even our pets demand accommodation and attention. Ever try to cook dinner without the family dog underfoot?
So having now experienced what it's like to be in complete control of the daily events of my life, I really value the solitude. And I understand why some people get in the habit of preferring to live alone.
The problem is, when we get in the habit of living alone, it often means we have gotten out of the habit of making room for others.
Dogs Are Habit Forming
There are a couple of reasons why I tend to live a more solitary life these days. My children are both in college now, and attend schools far from our home. My husband, previously not one to travel a lot, now spends a great deal of his work time on the road.
And, sadly, our sweet dogs, Husker and Lizzie, both died this summer, each after an unexpected cascade of medical issues.
I am still getting used to living in a home without pets for the first time in 25 years. And I find the most surprising part of the adjustment process to be those moments when I happen to bump up against one of the small, almost unnoticeable ways we learned to tweak elements of our lives and home in order to accommodate the presence of our canine friends.
The same accommodations I used to gripe about on a regular basis when they were still with us. The ones we no longer have to make now that they are gone.
Like how we had to dispose of any trash that smelled or felt the least bit interesting to a dog into one of the three closed trash cans in the house so that a dog would not find it, ingest it and then – yes, you know what's coming – pass it in an uncomfortable, messy and, often, expensive fashion. (Husker once sucked down and pooped out a whole tube sock before its owner even missed it.)
Or how our morning routine was, for 13 years, dictated by the need of the dogs to, after a long night, RELIEVE OURSELVES and EAT NOW, FOR THE LOVE OF PETE! Once a dog realized we were awake, the jig was up. Coffee, sex, the morning paper – all of these things had to wait until we took care of their urinary and gastrointestinal functions.
Turns out loved ones, even loved dogs, are habit-forming, and so the letting-go process is partly one of undoing old habits and forming new ones.
What I wouldn't give to have Husker and Lizzie back and have to make room for their needs and foibles once again. Such a small price to pay, really, for their sweet companionship.
So Are Children
After 20+ years of cohabitation with our children, my husband and I both agree that the silence and simplicity of the empty nest feels luxurious. With only the two of us to accommodate, we now have the run of the place and can largely do whatever we want, whenever we want to do it.
But, each time we notice a freedom associated with our children's absence, our delight is tempered by an awareness of the absence of their life-giving presence: my son's wry humor, my daughter's bright smile and quick laughter, and the myriad of intense conversations and hysterical musings we share with them when they are home.
And we suddenly can't wait for winter break.
Okay, okay. If I'm honest, I have to admit that the novelty of living a more solitary life is wearing off. The silence and simplicity of an empty nest, while luxurious, is also, at times, absolutely deafening in that it reminds me of the absence of my loved ones.
And I have come to miss the consistency and comfort of the daily nuts and bolts of being in a relationship, the need to accommodate, adjust and make room. I even, sometimes, actually miss the socks on the floor and the stinky bathroom.
Because, when you get right down to it, the presence of these small annoyances means that I have love and companionship in the house. And my need to make room for these things is really a small price to pay for that blessing.
But even more important, I have realized that the effort of making room for others actually makes me a better person. It stretches out my growing edges, and challenges me to be more patient and flexible. And it reminds me that all of those small, annoying accommodations aren't what's really important here.
Here's what's important: being connected to others, loving people, and making room.
—————————
What about you? Are you facing an empty nest or an empty backyard? How have you managed the freedoms and challenges of solitude? I hope you will share your thoughts and ideas in a comment below.
And if this post got you thinking, you might also like to read about Conquering Your Inner Toddler, Using An Upside-Down Map or Breaking Up.